TOOLS
01

Needlenose Pliers

02

Regular Pliers

03

Premium Replaceable Wire Cutters

04

Premium Replaceable Hard-wire Cutters

05

Wire Stripper

06

420HC Combo Knife

07

Saw

08

Hammer

09

Awl w/ Thread Loop

10

Can Opener

11

Bottle Opener

12

1/4" Hex Bit Driver

13

Bit Driver

14

1/4" Box Wrench

15

Carabiner

16

3/16" Box Wrench

17

Safety Whistle

18

Ferrocerium Rod

19

Diamond-coated Sharpener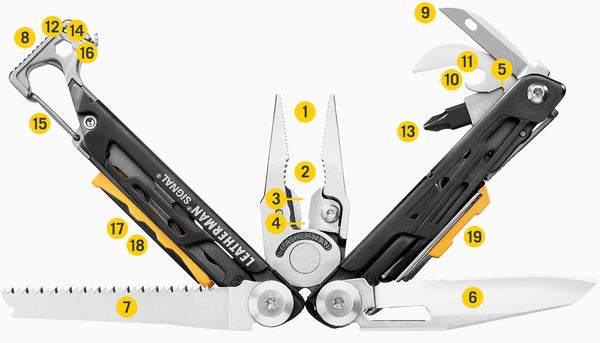 FEATURES
All Locking Features

All locking features means that every tool and knife on the body of the handle, with the exception of the plier head, will lock into place.

Replaceable Pocket Clip

A removable clip which allows the user to wear their multi-tool attached to a pocket or belt loop without the use of a sheath.

Outside-accessible Features

This multi-tool features tools that are accessible while the tool is in its folded or closed position, mimicking the functionality of a pocket knife.

One-hand Operable Features

Every feature on this tool can be opened and operated with one hand.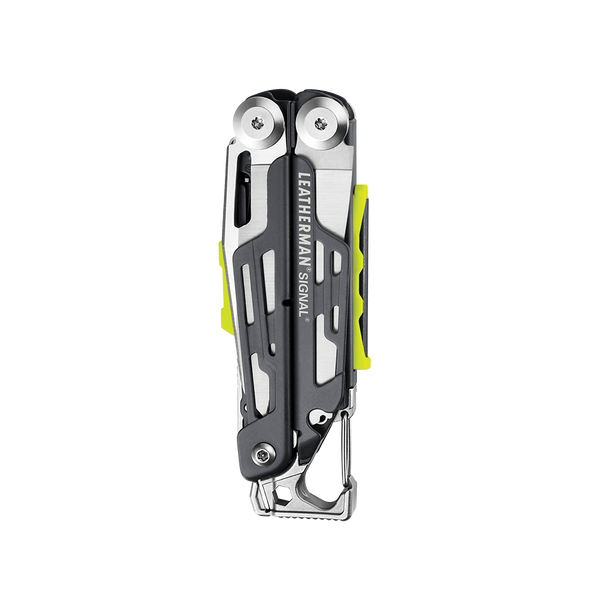 SIGNAL® Grey
SPECIFICATION
CLOSED LENGTH

4.5 in | 11.43 cm

WEIGHT

7.5 oz | 212.6 g

BLADE LENGTH

2.73 in | 6.93 cm

INCLUDES Safety Whistle, Ferrocerium Rod, Diamond Sharpener
PRODUCT WARRANTY INFO
We take extraordinary measures so your Leatherman product will give you many years of dependable service. If it doesn't, we will gladly repair or replace it, at our discretion, with one of equal or greater value under our 25-year guarantee. This warranty does not cover abuse, alteration, theft, loss, or unauthorized and/or unreasonable use of your Leatherman product. This warranty does not cover sheaths, accessories, imprinting, color finishes, cleaning, or sharpening.